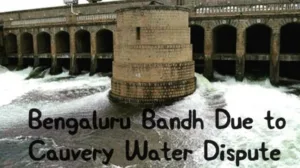 BENGALURU – In a show of unity, farmer groups, trade unions, and pro-Kannada organizations have joined forces to call for a Bengaluru bandh on September 26. The 12-hour bandh, from 6 am to 6 pm, aims to pressure the Karnataka government into refraining from releasing water from the Cauvery River to Tamil Nadu.
The decision to call for the bandh was made during a gathering of various organizations at Freedom Park in Bengaluru. Over 150 organizations have pledged their support for this protest, citing concerns over Bengaluru's drinking water supply as a primary motivation.
Kurubara Shanthakumar, a prominent farmer leader, stated, "This protest is over the critical issue of Bengaluru's drinking water woes, and we firmly believe that a large-scale bandh is necessary to ensure that Cauvery water is not released to Tamil Nadu."
The organizers of the bandh are advocating for the complete blockage of Cauvery water flow to Tamil Nadu, emphasizing the need for unity among farmers, Dalit communities, and civil society organizations to make their voices heard by those in power.
Also Read :
Praveen Shetty, representing the pro-Kannada organization Karnataka Rakshana Vedike, said, "We want all farmers, Dalits, and civil society organizations to unite for the bandh because that is the only way to compel those in authority to take notice of our demands."
The bandh is expected to have a significant impact on public transportation services. The Karnataka State Road Transport Corporation (KSRTC) and Bangalore Metropolitan Transport Corporation (BMTC) services are likely to be disrupted as staff members supported by the All India Trade Union Congress (AITUC) have expressed their intention to participate in the bandh.
Discussions are scheduled for Monday to further strategize the bandh's implementation. Organizers hope that restaurants and shops in Bengaluru will also join the cause by shutting down their operations temporarily to raise awareness and demand action regarding the release of Cauvery water.
The opposition Bharatiya Janata Party (BJP) has thrown its support behind the bandh, amplifying the pressure on the state government. As of now, the Karnataka state government has not issued an official response to the calls for a bandh, leaving the outcome of this significant protest uncertain.
As Bengaluru braces for the bandh on September 26, the city remains divided over the Cauvery water issue, with many hoping that this demonstration of solidarity will lead to a resolution that satisfies the concerns of all parties involved.