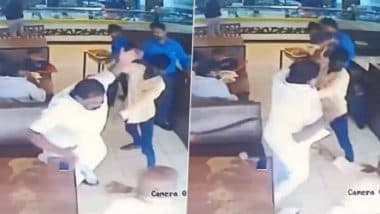 Bengaluru, September 24, 2023 – VK Guruswamy, a respected leader of the Dravida Munnetra Kazhagam (DMK) and former Madurai corporation mandal president, found himself in a life-threatening ordeal on September 4, 2023. In a shocking turn of events, Guruswamy was brutally attacked by a violent gang at a bustling restaurant in Bengaluru. The assailants, armed with swords and an assortment of sharp objects, unleashed a ferocious onslaught, striking Guruswamy more than 70 times. His survival, despite the grave injuries sustained, is nothing short of miraculous.
DMK Leader Targeted: The Assault that Shook Bengaluru
The attack on VK Guruswamy has sent shockwaves reverberating through the political landscape of Tamil Nadu and Karnataka. As a prominent DMK leader, Guruswamy was targeted in what appears to be a meticulously planned and barbaric assault that took place in a public establishment.
Also Read:
Three in Custody: Progress in the Investigation into the Attack on DMK Leader
Local authorities have taken swift and decisive action in response to this heinous crime. At present, three suspects, believed to have ties to the assailants, are in police custody. Law enforcement agencies have intensified their efforts to unearth the motive behind this brazen attack.
While initial investigations point to a possible connection with gang rivalry, authorities are maintaining an open and comprehensive approach to the case. This includes delving into Guruswamy's political affiliations and personal history to identify potential leads and motivations behind the assault.
A Stark Reminder of Gang Violence's Grim Reality
This brutal attack serves as a stark reminder of the severe consequences of gang violence and its capacity to spill over into public spaces, putting innocent lives at grave risk. It underscores the pressing need for stringent public safety measures and emphasizes the duty of law enforcement agencies to take proactive steps to thwart such appalling crimes.
The DMK, a political entity with a deep-rooted history in Tamil Nadu, has expressed its deep concern and outrage over the attack on one of its senior leaders. Party spokesperson, S. Ramalingam, issued a vehement statement condemning this act of violence and called for an exhaustive investigation to bring the perpetrators to justice. Ramalingam emphasized that political differences must be resolved through peaceful means and not through savage attacks.
The Road to Recovery: VK Guruswamy's Resilience
VK Guruswamy, who remains hospitalized, is now in stable condition thanks to the tireless efforts of medical professionals. His remarkable recovery has drawn an outpouring of support from his political colleagues, supporters, and well-wishers. Nevertheless, the incident raises concerns about the safety of political leaders and calls for a reevaluation of security measures for those frequently in the public eye.
As investigations into this shocking attack continue, the public awaits answers regarding the motive and those responsible. It serves as a stark reminder that violence has no place in a democratic society, and the rule of law must prevail to ensure the safety and security of all citizens.