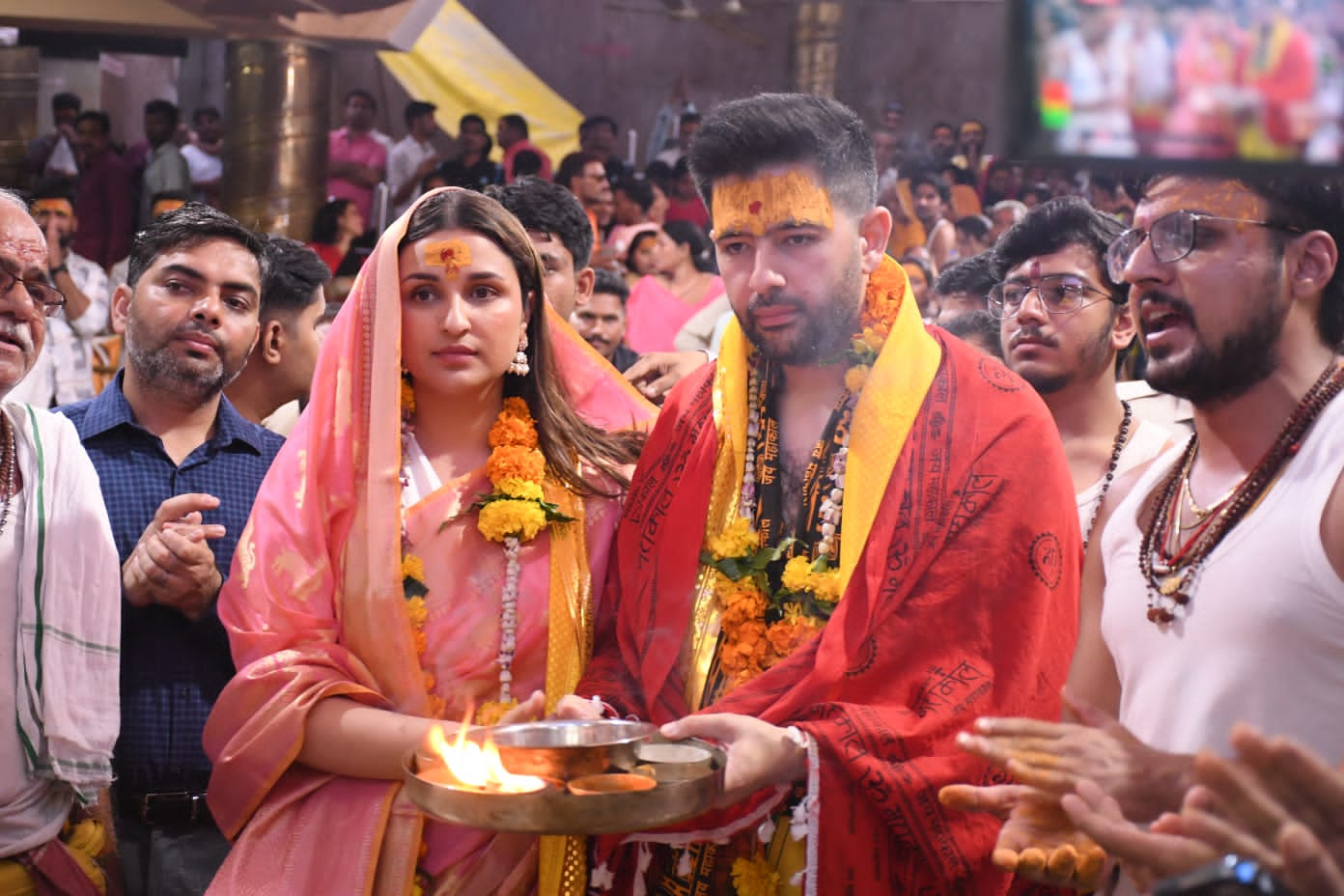 Udaipur, September 23, 2023
In a grand celebration of love, Bollywood actor Parineeti Chopra and politician Raghav Chadha are all set to embark on their journey of marital bliss. The pre-wedding festivities of this much-anticipated wedding have commenced in the picturesque city of Udaipur, setting the stage for a truly memorable union.
The couple, who got engaged in May, marked the beginning of their festivities with an ardas ceremony, followed by a soulful sufi night in Delhi, which was attended by close family members and dear friends. This intimate affair was a precursor to the grand wedding scheduled for September 24.
Parineeti Chopra, known for her acting prowess, and Raghav Chadha, a prominent political figure, arrived in Udaipur on September 22, and their arrival was met with a warm and enthusiastic welcome at the airport. Reports suggest that the nuptials will take place near the enchanting Lake Pichola of Udaipur. The couple and their guests will be accommodated in luxurious settings, with Parineeti and her entourage staying at The Leela Palace, while Raghav and his family will find respite at the majestic Taj Lake Palace. One of the most enchanting aspects of this wedding is the planned baraat procession, set to traverse from the Taj Lake Palace to The Leela Palace by boat, making it a truly enchanting spectacle amidst the serene waters of Lake Pichola.
For the big day, Parineeti Chopra is set to be a vision in a bridal ensemble designed by the renowned Manish Malhotra. Meanwhile, the groom, Raghav Chadha, will be donning a bespoke outfit curated by his maternal uncle and esteemed fashion designer, Pawan Sachdeva.
Also Read:
The pre-wedding festivities saw the presence of notable personalities, including Madhu Chopra, the mother of Bollywood superstar Priyanka Chopra, and her brother Siddharth Chopra. Reportedly, Priyanka Chopra and her adorable daughter, Malti Marie, will also grace the auspicious occasion. However, due to his busy tour schedule, Priyanka's husband, Nick Jonas, might have to miss the festivities. Priyanka had previously attended Parineeti and Raghav's engagement ceremony in Delhi. Adding political flair to the event, Delhi Chief Minister Arvind Kejriwal and Punjab Chief Minister Bhagwant Mann are also expected to bless the couple with their presence.
Parineeti Chopra shared the enchanting story of her love with Raghav Chadha on social media, accompanying her post with dreamy pictures from their engagement ceremony. In her heartfelt post, she expressed, "When you know, you know. One breakfast together and I knew – I had met the one. The most wonderful man whose quiet strength would be calming, peaceful, and inspiring. His support, humor, wit, and friendship are pure joy. He is my home." Parineeti went on to say, "As a little girl in awe of princess stories, I had imagined how my fairytale would begin. Now that it has, it is even better than I had imagined."
As the world eagerly anticipates the Parineeti Chopra-Raghav Chadha wedding, Udaipur stands adorned as the backdrop for what promises to be a beautiful and heartwarming celebration of love and commitment. The couple's union, amidst the royal splendor of Udaipur, is sure to create cherished memories that will last a lifetime. Stay tuned for more updates on this enchanting event