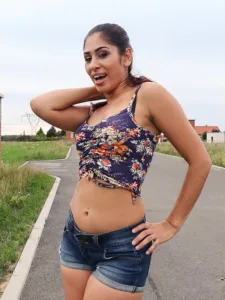 Indian Origin based famous Porn Star Sahara Knite, who started carrer in Adult Industry and worked In Famous TV Series Game of Thrones, is all set for Debut in Bollywood Industry.
The Enigmatic Sahara Knite: A Brief History:
Sahara Knite, born in London, emerged as a star with aspirations that transcended the boundaries of any single industry. Her enthralling journey commenced in the world of high fashion, where her striking allure and magnetic charisma quickly catapulted her into the spotlight. Yet, Sahara's ambitions knew no bounds, and she soon embarked on an extraordinary odyssey that would redefine her career.
From Adult Entertainment to "Game of Thrones":
In a move that left critics stunned and fans enthralled, Sahara transitioned into the adult entertainment industry under her pseudonym. Her fearless performances and tireless advocacy for improved working conditions within the industry garnered both praise and attention. But Sahara was destined for something grander.
Her breakthrough came when she graced the screen of HBO's iconic "Game of Thrones," playing the unforgettable character Armeca. Sahara's charisma and acting prowess shone brilliantly in the world of Westeros, leaving audiences spellbound and craving more of her talent.
Bollywood's New Leading Lady?
Now, brace yourselves for the most exhilarating twist in Sahara's remarkable journey. Sources close to the starlet suggest that Sahara Knite is on the cusp of making her Bollywood debut, plunging headfirst into the heart of India's cinema magic! While the details remain under wraps, insiders whisper that Sahara has been in discussions with top Bollywood directors and producers, fueling speculation about her imminent presence in the world's largest film industry.
Also Read:
What Lies Ahead:
As Sahara Knite prepares to embark on this thrilling new chapter, her fans around the world are on the edge of their seats, eagerly awaiting her Bollywood debut. Will she conquer Indian cinema as she did Westeros? Only time will tell, but one thing is certain: Sahara Knite's star continues to rise, and her journey is a testament to the power of talent, ambition, and the allure of the silver screen.
Conclusion:
In an industry often defined by boundaries, Sahara Knite's remarkable trajectory reminds us that true stars defy categorization. Her transition from high fashion to adult entertainment to mainstream Hollywood and now to Bollywood exemplifies the indomitable spirit of an artist who continues to evolve, challenge norms, and conquer new realms. As the spotlight shines ever brighter on Sahara Knite, we can only imagine the cinematic magic she'll bring to the vibrant world of Bollywood! Stay tuned for updates on this sensational journey