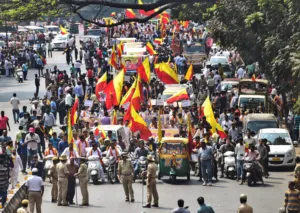 Bengaluru, September 28, 2023 – Bengaluru, the bustling IT hub of India, is bracing itself for a state-wide shutdown on Friday as over 2,000 pro-Kannada groups have called for a Karnataka Bandh in protest against the release of Cauvery water to Tamil Nadu. In response, Bengaluru Police has imposed Section 144, effectively restricting public gatherings and movements until Saturday 12 am.
The Karnataka Bandh, scheduled for September 29, is being organized by the 'Kannada Okkuta,' an umbrella organization representing various Kannada outfits. Their protest aims to disrupt normal life by shutting down highways, toll gates, rail services, and even airports across the entire state of Karnataka.
Also Read:
Police Commissioner B Dayanand confirmed that Section 144 would be in effect starting from 12 am on Friday, September 29, in anticipation of potential unrest during the bandh. He emphasized that the authorities were committed to maintaining law and order.
The 'Kannada Okkuta' has warned the state government against taking any measures to curb the protest, signaling their determination to make their voices heard. As part of the bandh, a protest procession is planned to move from Town Hall to Freedom Park in Bengaluru from 6 am to 6 pm on Friday.
Adding a layer of complexity to the ongoing dispute, Chief Minister Siddaramaiah announced that the direction of the Cauvery Water Regulation Committee to release water to Tamil Nadu from Thursday until October 15 would be challenged in the Supreme Court. This legal action threatens to further escalate the tensions surrounding the issue.
Simultaneously, metro services in Bengaluru are set to be disrupted on the same day as scheduled inspection work will temporarily suspend operations between Mysore Road and Kengeri stations on the newly extended section of Namma Metro's Purple Line. However, train services will continue to operate along other routes, including Baiyyappanahalli and Mysore Road, Whitefield and K R Puram stations, and the entire Green Line.
In an unfortunate turn of events for Bengaluru residents, South African comedian Trevor Noah canceled his scheduled show in the city on Wednesday, citing "technical issues." The cancellation left fans disappointed, especially as they had already endured massive traffic jams throughout the day, adding to the frustration caused by the impending Karnataka Bandh.
As Bengaluru braces for Friday's shutdown and the Cauvery water dispute continues to simmer, authorities are working diligently to maintain peace and order in the city. The Karnataka government will closely monitor developments and work toward a resolution to the ongoing crisis.