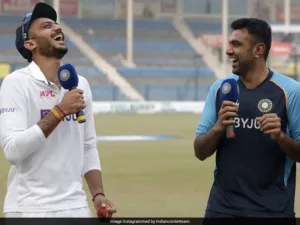 Date: September 26, 2023
The unfolding drama of India's ODI World Cup squad selection has taken an unexpected turn with the sidelining of all-rounder Axar Patel due to injury. Ravichandran Ashwin, initially excluded from the 15-man squad, has been given a second lease on his World Cup dream and is making a strong case for his inclusion.
Ashwin's return to the team has been impactful, with three crucial wickets and a valuable 30-run contribution in the two ODIs he has played since his comeback. His mastery of Indian pitches adds a dimension that could prove pivotal in the World Cup.
However, Ashwin's path to the final squad remains uncertain. The Indian team management must carefully weigh his current form, the team's balance, and the anticipated English conditions during the tournament.
Also Read:
The 36-year-old spin maestro brings experience and strategic acumen, but his sporadic presence in recent ODIs and questions about his fitness loom large.
Opinion on Ashwin's Chances
In light of Axar Patel's injury, Ashwin's chances of World Cup selection have undeniably brightened. His track record in Indian conditions and the ability to provide spin support make a compelling case.
Ashwin's experience and leadership qualities could prove invaluable to the team, especially the younger players. However, his selection is not guaranteed, and the management must balance his resurgence against concerns about his age and fitness.
Ashwin's performance in the remaining ODIs against Australia will be pivotal. While his path is clearer now, cricket's unpredictability ensures an intriguing chapter in Ashwin's quest for ODI World Cup glory.