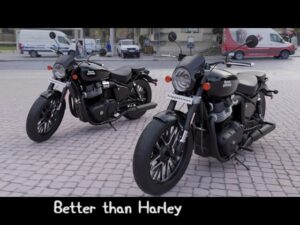 New Delhi, India – Royal Enfield, the iconic Indian motorcycle manufacturer, has taken the wraps off its highly anticipated offering, the Royal Enfield Shotgun 650. This new motorcycle, poised to be a game-changer in the cruiser segment, has generated significant excitement among motorcycle enthusiasts and industry experts alike.
The Shotgun 650 marks a departure from Royal Enfield's traditional design ethos, taking inspiration from renowned brands like Harley-Davidson. With this motorcycle, Royal Enfield has ventured into the realm of contemporary and stylish design, setting a new tone for the brand.
In a segment already occupied by Royal Enfield's Continental GT and Interceptor 650, the demand for these models has been steady but not exceptional. However, with the Shotgun 650, Royal Enfield aims to establish a dominant presence in the 650cc segment.
A Striking Design
The Shotgun 650 boasts a design that draws comparisons to the Harley-Davidson Street 750, but with a distinctive flair of its own. At the front, it features prominent LED headlights with a windscreen positioned above, giving it a bold road presence.
The fuel tank sports a sleek curved shape, departing from the conventional round design. Below, black dual exhaust pipes add a touch of aggression to the motorcycle's aesthetic. The generously sized tires add to its overall muscular appearance. The Shotgun 650 features a split seat design that can be customized according to the rider's preferences. This bike is poised to hit the road like a true beast and is expected to resonate strongly with the youth demographic.
Powerhouse Performance
Under the hood, or rather, the chassis, the Royal Enfield Shotgun 650 is powered by a 648cc parallel-twin engine. This engine is a true powerhouse, outperforming many in its class. It generates a robust 47 horsepower and 52 Newton-meters of torque, making it suitable for conquering a variety of terrains and riding scenarios.
While the official launch date for the Shotgun 650 has not been disclosed, there is speculation that it might hit the market later this year, just in time for the festive season. Although the pricing details are yet to be unveiled, it is estimated to be priced around ₹5 lakhs, making it a competitive offering in the 650cc cruiser segment.
With the Shotgun 650, Royal Enfield appears to be targeting a younger and more style-conscious audience, while still delivering the performance and reliability that the brand is known for. As the anticipation builds, motorcycle enthusiasts are eagerly awaiting the official launch and the opportunity to experience this exciting addition to the Royal Enfield lineup firsthand.